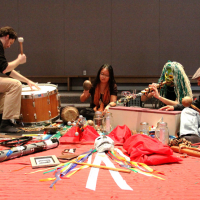 Rules of Play,
voice and percussion
Rules of Play is Robert Esler and Lisa Tolentino - an experimental music duo featuring voice, percussion, and esteemed friends.
Esler and Tolentino studied contemporary percussion performance at University of California, San Diego, with renowned percussionist Steve Schick. They have performed nationally, internationally, and most recently in critically acclaimed performances at Make Music New York. They will be performing Nico's "Frozen Warnings".


In I Am Not Service, Blake McConnell reflects upon his former life as a server and bartender. A tightrope walk along the porous border between the performance of authentic self and the structural rules governing the behavior of the service sector worker, this work questions the meanings of service in our post industrial society. From behind his portable bar, Blake will have you asking yourself: "how can I be of service?" Read more here.
Blake McConnell is an artist and musician in the second year of his Masters in Fine Arts, Digital Technology at ASU. He uses his grab bag of skills to perform, record, and design installations. Most find he's at his best when he's up to no good. Find out more at blakemcconnell.net
Spencer Goad, mbira
Spencer Goad is a freelance percussionist and music educator in the greater Phoenix area. He was born in Los Angeles, California where he studied percussion with orchestral and TV/film studio musicians as well as mbira, Zimbabwean thumb piano, with Dr. Ric Alviso. Spencer has been playing mbira, the sacred thumb piano of the Shona people, on and off for the past three years and has also studied Ghanian djembe and dun-dun drumming with John Magnussen, A. O. "Bongo" Sidibe, and master drummer Mamady Keïta.
Spencer received his Bachelors of Music in Percussion Performance at California State University Northridge and his Masters of Music in Percussion Performance at Arizona State University. Spencer was raised with the Los Angeles studio musician mentality of being a "jack of trades," so you can find him in musical theater pits, Brazilian samba bands, Salsa bands, church praise bands, and jazz combos all over the Phoenix area. Music education has always been a big part of Spencer's life and he currently teaches percussion ensembles at St. John Bosco Interparish K-8, Shepherd Junior High as well music classes at South Mountain Community College; he also runs his own private teaching studio in Tempe.
Photo by Steve Lee.
Improvisation #1, Sound and Movement Ensemble
Sound and Movement Ensemble organized by Courtney Brown and Julie Cruse. Guided improvisation in response to written prompts.
Links:
http://www.courtney-brown.net
http://juliecruse.com/